In the early days of Retrouvius, the onus was on us to go hunting for salvageable materials. It meant that most excursions beyond our Glasgow front door involved a leg up into a skip. After 30 years on the scene, an increasingly conscious wave of contractors has started seeking us out.  This was the case in October 2022 when we arrived at Fawley Power Station in Southampton, where demolition loomed over the flying saucer control tower.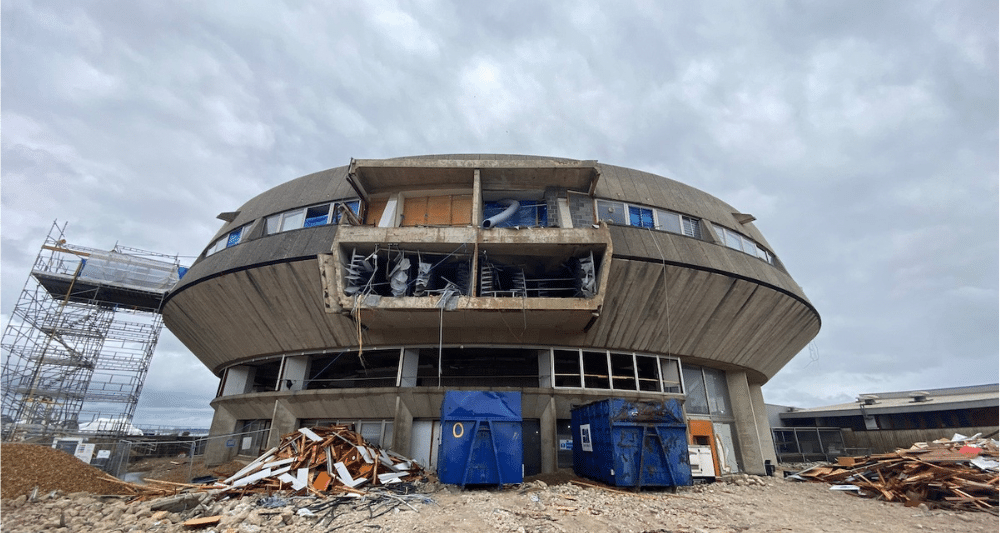 Over the last year, the site has been gradually demolished through a series of controlled explosions to make way for 1,500 new homes. Apparently, the aesthetic 'did not sit well within the current proposed masterplan to redevelop the site'. When we shared this snippet of insight on Instagram it triggered a wave of sentiment.
Aside from the concrete, brutalist buildings from this era are consistently packed with tropical hardwoods, stone and well-made fixtures and fittings. We try to salvage as much as possible, but contractors work to extreme deadlines and, more often than not, we arrive to a bonfire-worthy heap of materials that have exited through the window. Sadly, this was also the case at Fawley. We were able to rescue a van-load of slatted teak panelling but were painfully aware that, if we'd been alerted sooner, great swathes of reusable materials could have been saved from landfill.
If you have a spare few minutes, watch this walk through the abandoned control tower and consider all the materials with re-use potential. Now you're thinking like a salvage hunter!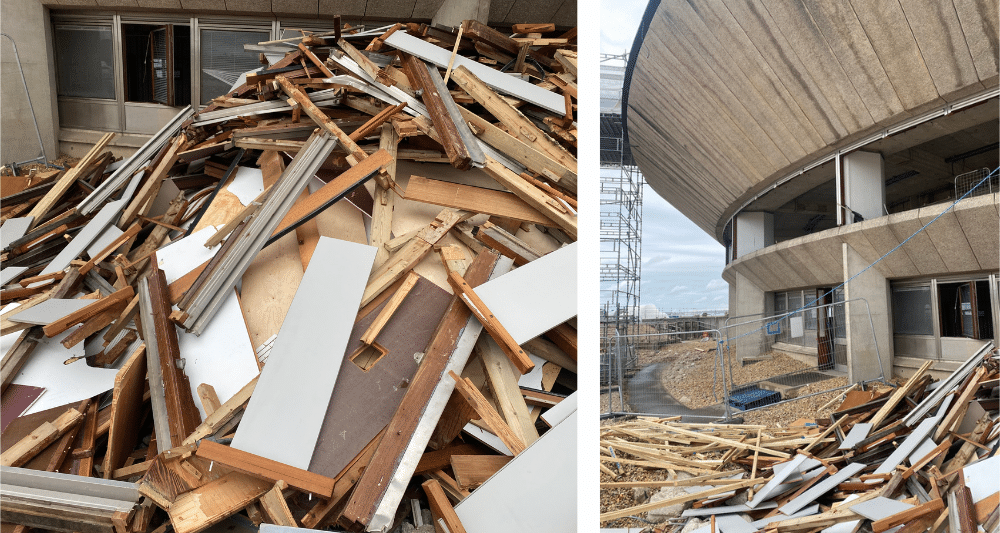 One reclaimable element we were reticent to abandon was the substantial hardwood handrails. They'd been carefully designed to the curvature of the circular building, but this detail had rendered their potential re-use very tricky.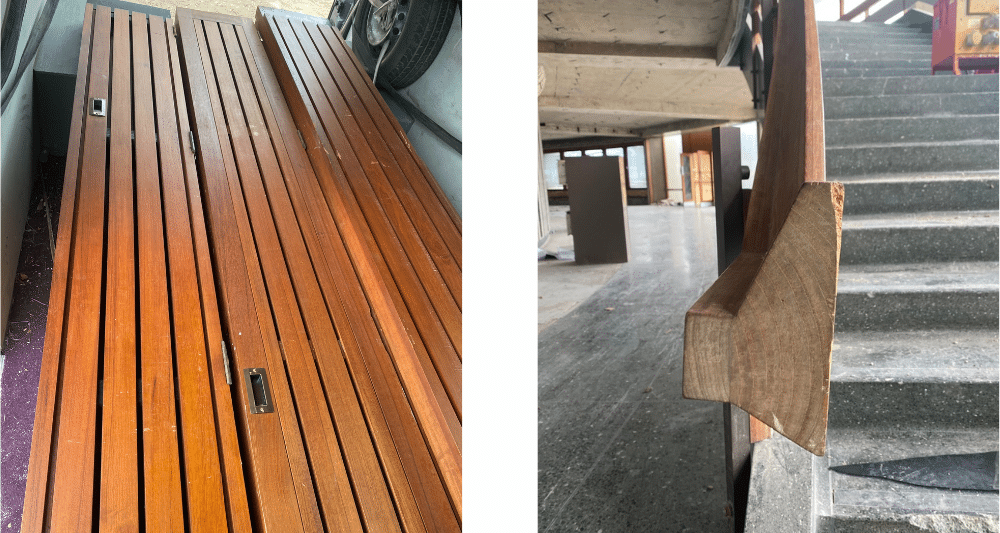 Fortunately, fate was on hand to connect us with Korean designer Subin Seol. Through the process of re-assembling construction waste, Seol's work explores how we can honour disassembled architecture through tangible objects. In this case, a furniture collection made from Fawley's curved handrails.
Despite the challenges, Seol has chopped, merged, and shaped the handrails, embracing their curvatures, to create furniture pieces than can be used in everyday life. A celebration of the old landmark's heritage. As the 'flying saucer' control room was acclaimed as a prime example of brutalist architecture, Seol's set out to deliver the original building's aesthetic and retain its legacy.  The distinctive shape of handrails is restrictive, but it has spurred an exploration of unique patterns and structures.