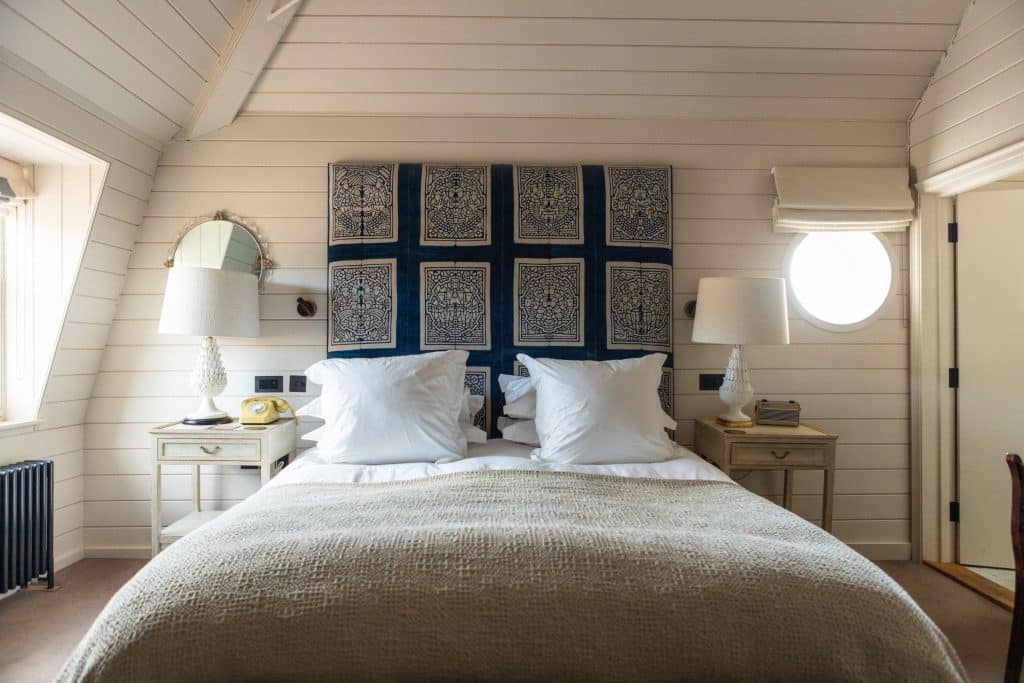 With 41 individually-designed bedrooms to choose from, it was no easy task (but lots of fun!) to pair our design team with their perfect room when we took a trip to The George. So, we wanted to share which rooms we chose ….
Clare
Room 19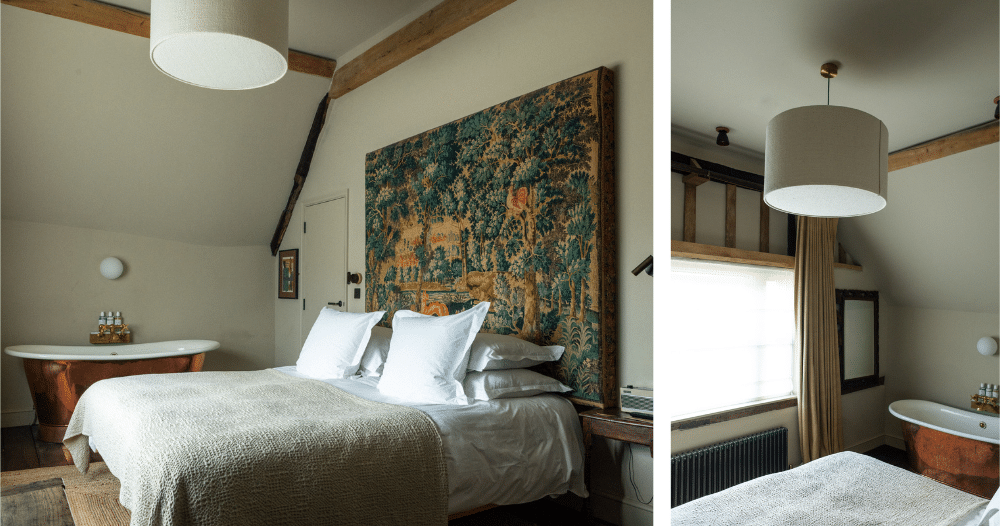 This was interior decorator Clare's first night away from home since having her daughter, so we wanted to make sure it was a treat. Clare worked on The George from the very start of the project, so she's witnessed it's phoenix-like reincarnation first hand. This room is in the part of the building that suffered the most fire damage, which allowed us to re-expose the beams. We love the drama created by the  marvellous vintage tapestry used for the head board.
SHOP VINTAGE TEXTILES
Layla
Room 4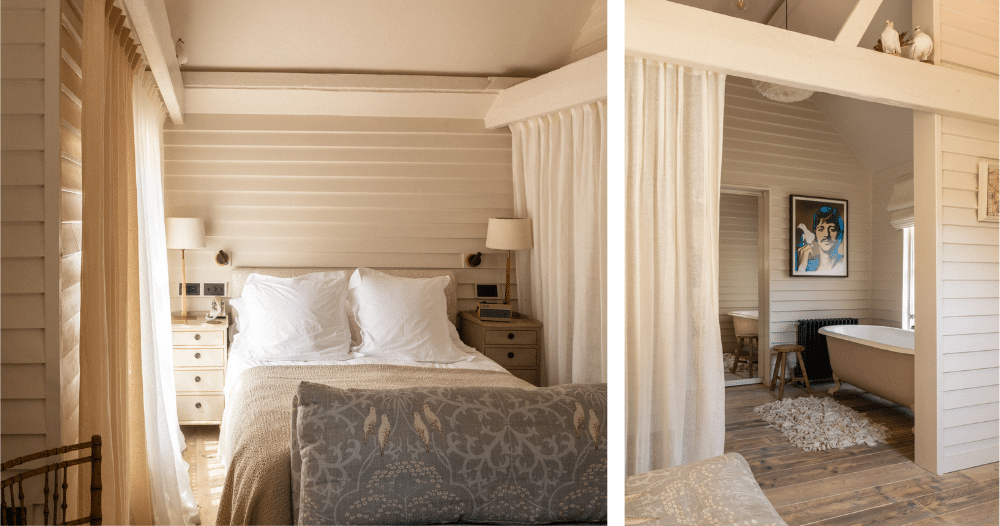 We knew that newly-married Layla would love this dove-themed room, one of 3 that can be used as a bridal suite when booking The George for a wedding. This room was a completely new addition after the fire, taking a little  inspiration from the doves roosting in the rafters, complete with 'Bella' bird textile by Lewis & Wood. One of our favourite details, a bath side stool is just large enough to rest a glass and bottle of bubbles
Nick
Room 10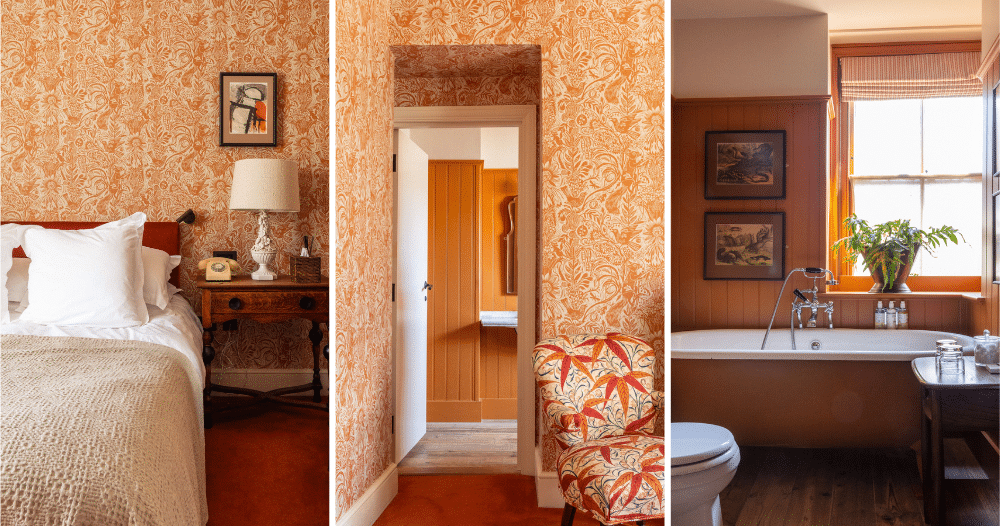 For our press manager Nick Hughes, it had to be this jolly room decorated in 'Squirrel & Sunflower' wallpaper designed by Mark Hearld for St. Jude's. When he's not working with Retrouvius, Nick creates the most marvellous hand-printed wallpapers, exploring illustration and printing mediums in his studio. You'll spot some of his illustrations on The George's menus and packaging.
James
Room 3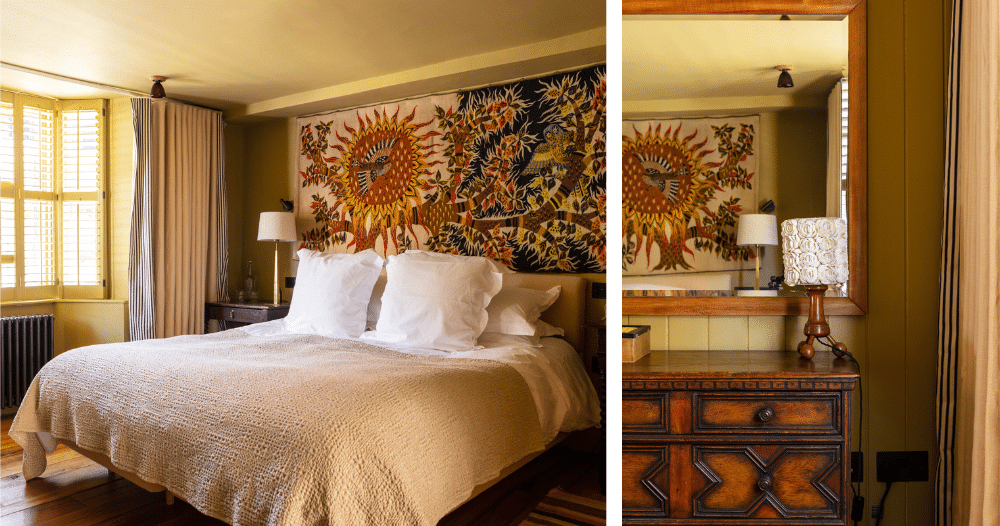 We thought architectural assistant James would appreciate the fabulous bold colours of room 34. Above the bed hangs a midcentury needlepoint by Jean Lurcat, which helped inform the bespoke colour by Francesca's Paints. 
SHOP VINTAGE TEXTILES
Theo
Room 17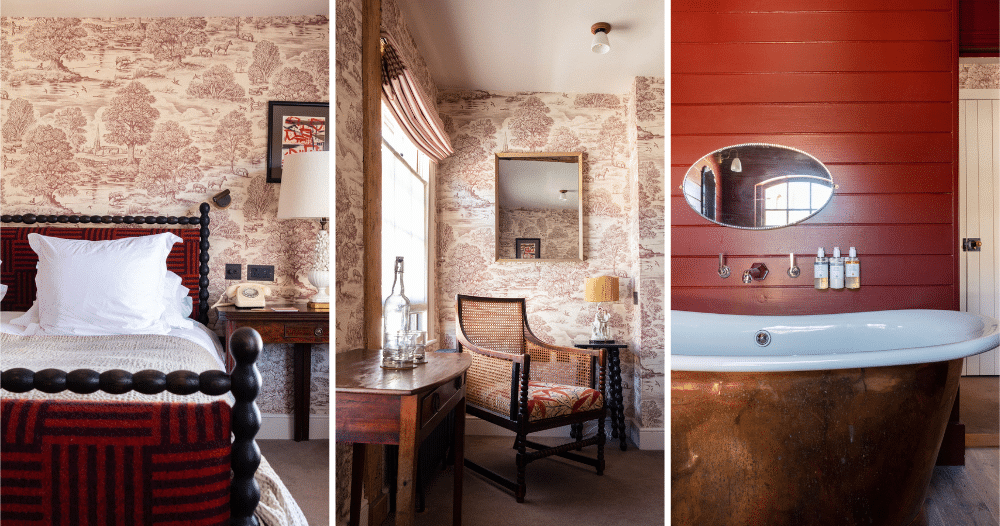 For our photographer Theo Tennant we chose this sophisticated room decorated in Lewis and Wood's 'Royal Oak' wallpaper, with a handsome bobbin bed hand-turned  by Sussex maker Alfred Newall. Antique desks and side tables, characterful and robust, are always useful should a quick laptop moment be required.
Chiara
Room 21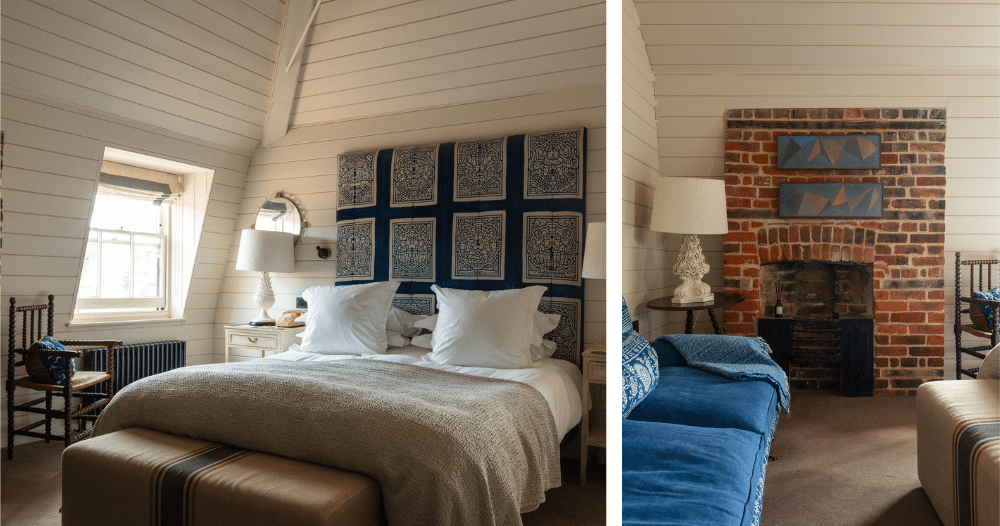 The headboard in the room we chose for Italian architect Chiara is made from a vintage Chinese indigo tent cloth, complimented by a striped African textile and antique batik used on the sofa. We love the views from this room across the Rye rooftops and the landscape beyond.
SHOP VINTAGE TEXTILES
Esther
Room 33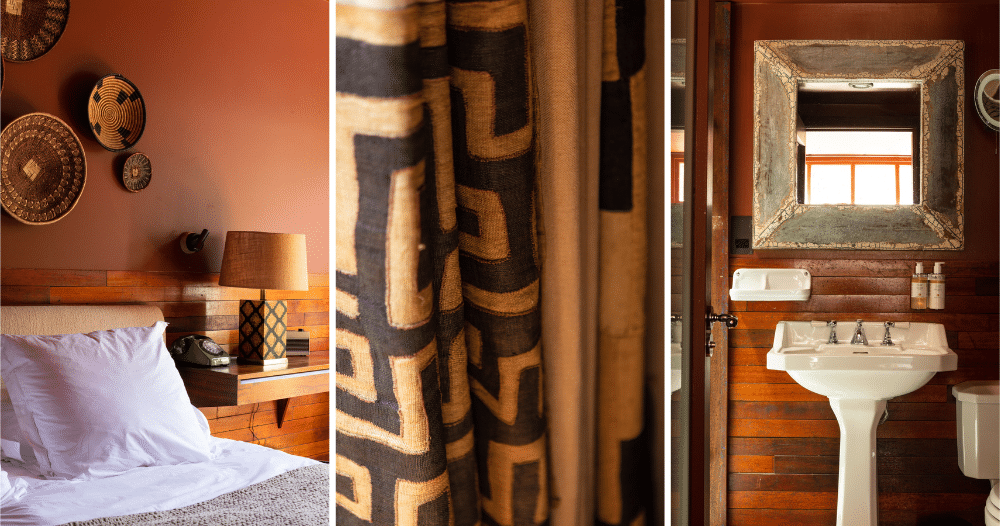 Interior decorator Esther loves a luxurious shower, so we knew she had to have this room with a bathroom lit from above. This richly decorated room was fortunately unscathed in the fire, but was refreshed with curtains made from handwoven Kuba cloth originating from the Congo. ​​The reclaimed hardwood strip flooring from our previous phase of works has aged incredibly well.