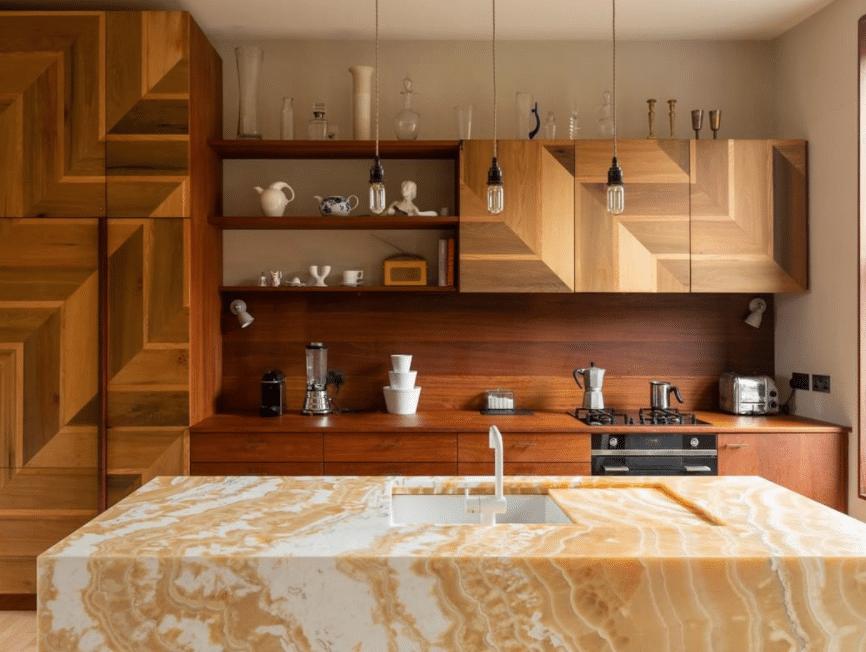 Originating in the forests of West Africa, iroko wood is now recognised as a valuable and finite resource – it deserves to be looked after!
Tropical hardwoods such as iroko are extremely durable, versatile and naturally mould-resistant. However, intermittently applying a recommended oil or wax sealant will maximise the lifespan and aesthetics of the timber finish.
Our reclaimed iroko has been sustainably sourced from university and municipal buildings such as army barracks and secondary schools. Since the late 20th century hardwoods have been phased out of science laboratories in favour of plastic finishes and furniture. We have salvaged huge quantities over the years and it has become a signature Retrouvius material. However, they are becoming ever more difficult to source and therefore increasingly precious!
Iroko is ideal for hard-wearing environments such as worktops, splashbacks and shelving. We encourage thinking creatively about how to use any offcuts – our design studio often incorporates them as aesthetic inlays in cabinetry.

Recommended Iroko Wood Treatment
The iroko we supply is very variable. Some schools will have sanded back and refinished their worktops every year…. others applied thick, heavy varnish and left them untouched for decades!
Like all natural materials, over time your iroko will naturally turn a silver colour from exposure to direct sunlight and moisture. If you would like to maintain the natural oiliness and rich tones of your iroko we recommend giving it a light sand back and refinishing with a hardwax oil such as Bison Wax or Osmo Top Oil. Each of these treatments will come with careful instructions.

A Couple Of Things To Note
Iroko will burn on direct contact with a hot pan.
Do not leave standing water on the surface. If you use your Iroko worktop as a drainage area for dishes always dry after use.
High-humidity areas such as bath surrounds will require extra care to maintain water resistance.
Larger worktops consist of several planks of iroko biscuit jointed together. Cutting and rejoining is not recommended – whilst hardwood iroko is stable the softwood biscuit joints are less so!
SHOP RECLAIMED IROKO WORKTOPS